Unique & Attractive Graphics For Your Websites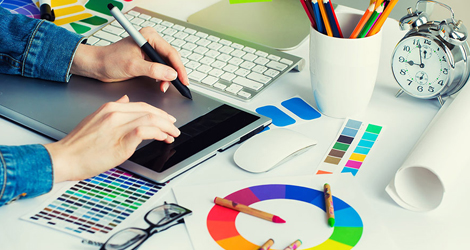 DigitalGuyz is a renowned graphic design service provider in Bakersfield. Our graphic designers are known for creating attractive and relevant graphics that add a WOW factor to your website. We are a team of passionate designers who go above and beyond to ensure that our clients are completely satisfied with our work.
We are committed to delivering excellent designing solutions to our clients. Whether you need an attractive landing page, company logo, or business card design, we will go the extra mile to meet your needs.
Logo Design
Logo plays an important role in a business website. It is the first thing that the user will notice. If you think your company logo is outdated and doesn't reflect your services well, come to us. At DigitalGuyz, our skilled graphic designers create amazing and custom logo designs. Whether you need a simple or gaudy logo, we are competent to add that wow factor to your website. Your satisfaction is always guaranteed!
Landing Page Design
A well-designed landing page can make or break the image of your business online. Our landing page designers in Bakersfield has helped over 100 brands to achieve their online marketing goals. Our landing pages are customized to meet and exceed your unique needs. Whether you need it to be done from scratch or need to revamp your existing design, we have got you covered. Our design will help you improve your conversion rates and increase your return on investment (ROI).
Business Card Design
Our graphic designers at DigitalGuyz create amazing business cards that can leave a lasting impression of your customers. We ensure that our design perfectly present your services. Business cards are generally designed within 2 or 3 days. If you want more than one option for the business card, then we can also do that. We will keep revising the designs until you are completely satisfied with the end product.
Why Choose DigitalGuyz For Graphic Design Services?